Amn Kahani is a series of live sessions that will bring forth the views of various intellectuals on the matter of achieving peace through arts, culture, and mysticism.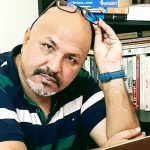 Jamshed Iqbal is an initiated Sufi scholar from Pakistan. He writes and speaks on peacebuilding, conflict management, and life skills and sees different behavioral issues of the human family from the standpoint.
Raqs-e-Amn is a peace campaign aiming to promote coexistence and harmony through universal principles of spiritual realization. It is dedicated to educating and engaging youth on the inner dimensions of peace, the current religious discourse in Pakistan, and promoting interfaith and inter-sectarian harmony. By using Mysticism, Indigenous Culture, and Arts, Raqs-e-Amn will build the path to a peaceful future.
Beydaar Society is a youth-led organization that aims to create awareness and civic sense in the Pakistani people. Primarily through its projects, it hopes to bring a positive change in the various sects that are facing oppression and are marginalized on a daily basis. Beydaar believes that these neglected groups have the potential to become stronger if only given the right opportunities.