Seth J. Vogelman is currently the Director, Trade for Atid, EDI, a business consulting firm located in Jerusalem, Israel.  The firm's leading clients include Pennsylvania, Delaware, Illinois, New Mexico, and Ukraine, for whom the company serves as their Middle East Regional Office.  He is responsible for the daily coordination of local office activities in Israel, Turkey, Jordan, the Palestinian Authority, North Africa, the Arabian Gulf, Pakistan, and Egypt.  To this end, he helped to create and maintain a national and regional marketing system for the promotion of American exports. 
Mr. Vogelman also produces The Fortnightly, a newsletter on economic and business development in Israel and the Middle East that is distributed internationally.  Mr. Vogelman has experience in both the construction field and on collective agricultural settlements, where he was extensively involved in organic/biological agriculture.
As a citizen of Israel, Mr. Vogelman is a retired Captain (res.) in the Israel Defense Forces, having served with the I.D.F. Spokesperson.  He is also the president of the American Civil War Round Table in Israel.  Seth Vogelman is a 1981 graduate of McGill University, Montreal, Quebec, and holds a Joint Honors B. A. in Political Science (International Relations) and History (American).  He currently resides in Maale Adumim, Israel. 
Seth is fluent in English and Hebrew and has an excellent working knowledge of German, French, and Arabic.
This podcast is powered by Melonapp, Melon is one of the best platforms for live streaming.
You may also like to watch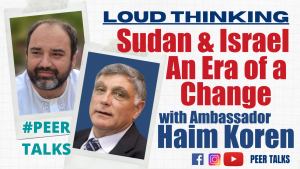 Peer Syed Mudassir Nazar Shah discusses Ambassador Haim Koren about "Sudan & Israel, An Era of a Change". Ambassador Haim Koren is a former Israeli diplomat and an expert in the Arab World.